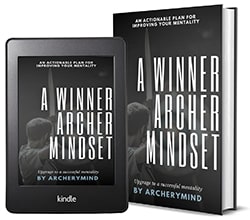 If you're having trouble sticking with your training, or you want to take your archery to the next level, you've come to the right place.
The ArcheryMind newsletter is centered around developing a great mindset as an archer. The newsletter will help you in the process of improving your mindset, which will, in turn, help you take archery to the next level, by improving the quality of your training sessions and removing resistance with training.
The newsletter is completely free to join. We also promise to always be respectful of your time, and only send relevant, valuable information that will be useful to you with your journey.
What you're going to get
A free copy of our eBook, "A Winner Archer Mindset".
Information and personal stories that won't be shared anywhere else.
Amazing discounts and offers that can help you on your path of personal growth.
This is truly an insiders club of people who truely appreciate archery and want to significantly speed up their progress.
How to join?
Joining is quite simple, and as stated before, is completely free. You can always unsubscribe if you find that you don't enjoy the content.
To join, simply fill the form below with your information. Everything will be sent to you via email. I'll see you there!